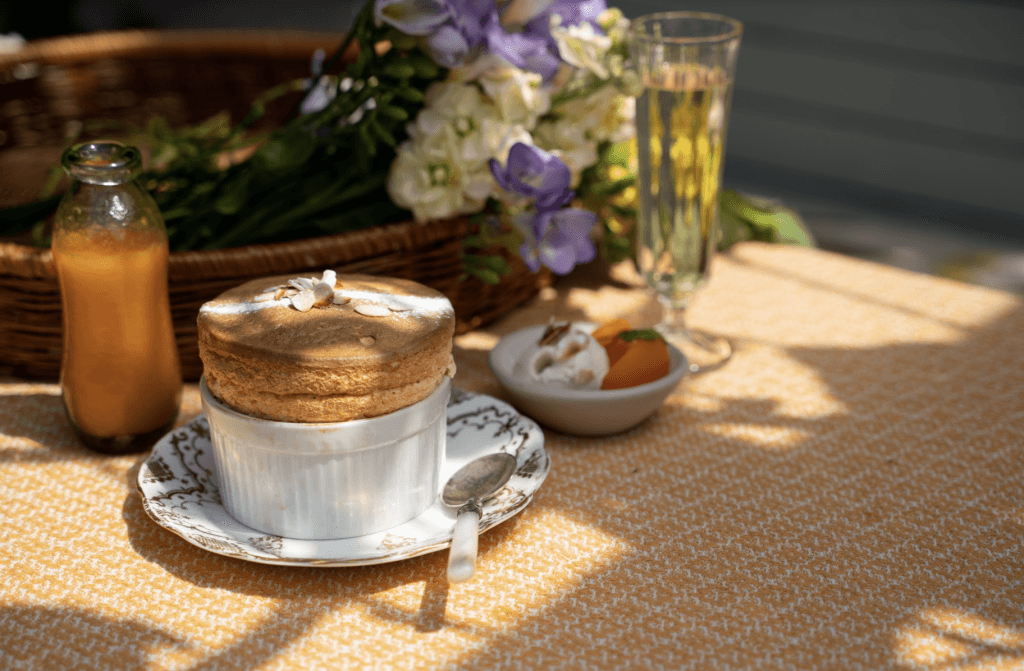 Champagne & Soufflé is now served…
To celebrate the start of Wimbledon on June 28th, we will be launching a new Champagne & Soufflé guest experience. Fusing classic French cuisine with the essence of a quintessential English summer day, brand new sweet soufflé flavours have been lovingly crafted, which offer an alternative light afternoon treat. These will be accompanied by a cool, crisp glass of Champagne Lanson, perfect to enjoy on a sunny day with friends and loved ones.
Taking inspiration from Centre Court, the showstopping Strawberries and Cream soufflé features a fluffy strawberry soufflé served with macerated strawberries, vanilla ice cream and a strawberry coulis. Also new is the refreshing Apricot, Almond & Amaretto soufflé. The light-as-air soufflé featured poached apricots, amaretto and marzipan and is served with an apricot coulis, apricots & vanilla ice cream. The final soufflé on this special afternoon menu is the Brasserie Blanc signature Pistachio, served with a rich chocolate ice cream.
Our pubs are famous for their light and fluffy soufflés – a legacy passed on by Raymond Blanc whose delicious Cheese Soufflé is so popular it has remained on the menu since Day 1. It even appeared in the recent ITV series Simply Raymond Blanc with Brasserie Blanc's Executive Chef – Clive Fretwell – making a guest appearance to cook the dish who shared the fact that across the business, we sell over 125,ooo soufflés every single year!
Raymond Blanc commented: "The soufflé is synonymous with France and a dish such as strawberries and cream is quintessentially English. Chef Clive took these winning combinations and created an afternoon treat with a twist."
Priced at £15 for Soufflé and Champagne, it will be served Monday to Saturday, 2pm-5pm from 28th June 2021.
WIN TICKETS TO WIMBLEDON
Anyone indulging in Champagne & Soufflé during the two weeks of Wimbledon can enter a draw for two tickets to Wimbledon 2022! All they need to do is: share a photo of themselves with the dish & follow the pub and Champagne Lanson @champagnelansonuk on Instagram using the hashtag #servedwithlove. Best of luck!